Resolution Series FM 155-MKIIR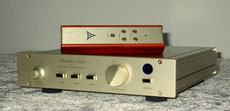 An unobtrusive little unit but what an exciting one!
The FM 155-MKIIR is now on demonstration at our distributors after it had been launched at the hifideluxe in Munich. 
Listeners were awestruck of the beauty, real-life dynamic and emotional content of music of the XS-IIIB system - driven by the small FM ACOUSTICS' electronics (FM 123 - FM 155-MKIIR - two pairs of FM 108).
While conserving the exterior of the original FM 155, the inside of the
FM 155-MKIIR is completely new (and much more demanding in manufacturing). The refinements that were recently introduced in the larger line stages have been incorporated in the new FM 155-MKIIR while keeping all original features:  
Superb natural reproduction of music
Absolute transparency
Unparalleled freedom from noise & interference
Natural dynamics in highest definition
Proprietary enhanced Class A circuitry
Fully discrete circuitry using special tracer analysed and listening-selected semi-conductors
Zero overall feedback / feedforward
No more matching problems between electronics and cables
Outputs drive any type of load with perfect reproduction and stability
Neutral; no colouration
High dynamic reserves
All input & output impedances are perfectly linear over full frequency range
Precision output level control; no stepped attenuators, relay type or - inferior sounding - optical volume control
External power supply prevents stray fields
Low impedance, high stability power supply regulation
Hand-selected and individually matched components of DIN, IEC & MIL standards
The Resolution Series 155-MKIIR is the ultimate line stage/preamplifier for use with single ended sources. By using the appropriate P.I.T. cables it can be perfectly interfaced with pseudo-balanced or true-balanced equipment.
No description can do justice to this fabulous unit. Contact the local representative in your area to make an appointment for a special treat.